One of the many things that makes Intouch a great place to work is the opportunities we get to learn and grow professionally — whether through the many in-house training programs our Learning and Development team puts together, or at conferences we get to attend. In this blog post, Intoucher Grace M. Pollert — senior office manager for the Chicago office — talks about her recent experience at ON Con.
For the past few years, I have attended several "Admingling" events, which are these great networking events set up specifically for administrative, office operations, and facilities professionals in major cities across the country. I was excited about these events because in my 11+ years in this line of work, I'd never seen anything specifically for us! These professions are so often left out of professional trainings, networking, conferences, etc. We have invisible roles, roles that are often dismissed, undervalued, and under-recognized in the workplace. After attending two previous events, I was asked to facilitate at an Admingling event in 2018, which was a great experience, and an honor.
So when I heard that Office Ninjas, the same group that puts on Admingling events all over the country, was putting on their first-ever conference, I begged my boss for the opportunity to attend. Luckily, Intouch is all about furthering its employees' education and training, so off I went to the inaugural Office Ninjas conference in San Francisco, CA.
This conference was planned around Administrative Professionals' Day, which is April 24. I arrived the night before and attended a kick-off event all about sharing embarrassing work stories, a wonderful ice breaker. Over the course of a very busy conference day, we got to hear speakers on the future of work and the power of rituals, and took several workshops on personal objectives and key results and creative collaboration. I also got the privilege of hosting an abbreviated version of the Admingling events that got me involved with Office Ninjas in the first place — but on a much larger scale, with people from 45 cities, 19 states, and three countries!
After a full day of collaborative learning, we were whisked away to another location for the Admin Bash, celebrating all of us on Administrative Professionals Day! There were swag bags, food, drinks, music, chair massage, and more. The best part is that vendors who were there brought information to share, since our jobs so often involve event planning. Even when we were partying, we were making useful and meaningful connections.
I'm grateful to have had the opportunity to attend the first ON Con, and I hope I'm able to attend each year to see how they improve and grow from all of the participation and feedback. Cheers to working hard, learning lots, and making meaningful connections!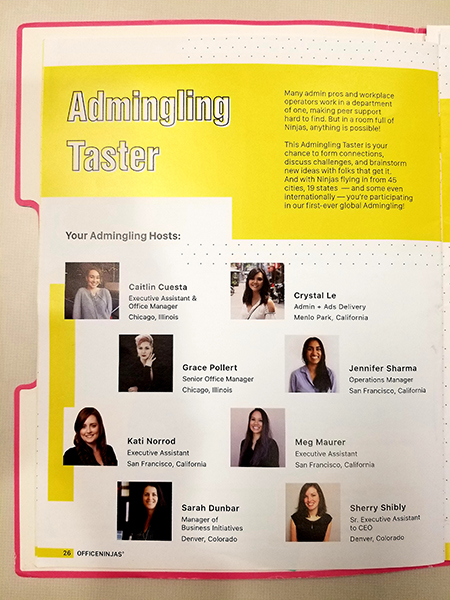 Interested in working for a terrific company that supports your professional development? Check out our jobs page!