At Intouch, we know how important it is that employees feel valued and supported. From great health insurance coverage to the three weeks of vacation when you start, to the adoption-assistance benefits, tuition reimbursement and student loan pay-down programs, monthly tech stipends, and a lot more, there can be no doubt that employee satisfaction matters here.
All of those things are awesome, but they're experienced on a personal level — so what about a sense of community, where we experience moments of delight — or discomfort or empathy or even sadness — together? How do we maintain connections when we're rarely in the same room anymore?
One way is through our Virtual Vibes team — these are the folks who keep us "together," through regular online group activities, employee spotlights, birthday shout-outs, and a LONG list of opportunities to grow, laugh, and learn.
According to New York assistant office manager — and Virtual Vibes event planner extraordinaire — Michael Tatasciore, Virtual Vibes originally started in April 2020, right after the onset of the pandemic, but only for the New York office.
"We wanted to maintain the New York office's strong culture and allow people a way to replace 'water cooler talk'. The original 'New York Culture Club' was more like a social media app for the company," says Tatasciore. "As people started working less on site-specific work and blending across offices, word spread and we started adding more and more people to it from outside the New York office. Eventually, we were able to open it up to the entire company in December 2020."
Over the past two years (since we all started working from home), we've enjoyed weekly sessions that offer something for nearly everyone: meditation, yoga, live workouts, themed bingo and trivia games, spelling bees, gingerbread house-making contests, live cooking and flower arranging classes, happy hours, "coffee breaks" with featured Intouchers, and even a beginner's class on American Sign Language! We also occasionally have classes from the lauded online MasterClass series.
"The recent MasterClass on Empathy really shifted my perspective," says Chicago director of operations Grace Pollert. "I've always thought of empathy on a very personal level, but hearing about how empathy has been applied across so many professions — from writing, to music, to an office setting — really helped expand my thoughts and definition of empathy, and where it can be applied in all of our lives. I love the continued journey of learning that Intouch promotes through these events; it is a gift!"
How does the team come up with ideas and keep things fresh?
"I get most of my ideas from my own experiences in New York," explains Tatasciore. "At the beginning of the pandemic, I found vendors, restaurants, and entertainers who I knew personally or liked to visit pre-shutdown and provided them a chance to host a virtual event and help their income. This has stayed true through today."
Check out these descriptions from some past events:
Virtual Bring Your Pet to Work Day Talent Show!
Intouchers and their pets will be on the call to show us what they've got in front of a panel of judges. But every talent show needs its cheerleaders! Join the call and support your coworkers and their furry, feathery, scaly friends!
Pride Party
Pride Month is almost over, but not before Virtual Vibes throws the best Pride Party you have ever seen! Fan-favorite, Top 3, almost-had-the-crown Crystal from Season 12 of RuPaul's Drag Race will be our stunning and eccentric host of the evening. Straight from Springfield, Missouri, Crystal soared to top marks on RuPaul's Drag Race, and constantly pushed the boundaries of drag. Join us for games and activities; try your chance at winning prizes; and watch a live performance by Crystal that will fill your entire home with her energy!
The Zoom Zoom Comedy Room
Tune into some of New York's best stand-up comics from the downtown circuit. Grab a drink, a snack, sit back, and get ready to laugh along with us as we end the week!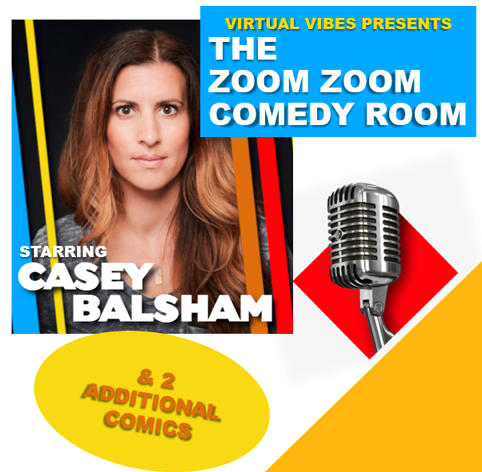 What's Coming Up in 2022
"After a month focusing on intentions, goal-setting, and mental and physical strength, Virtual Vibes is looking inward," says Tatasciore. "In February, we want Intouchers to feel some self-love and practice self-care. While we continue our well-loved Morning Meditations and Workouts with Chad, we are excited to treat folks to exciting new experiences. This month, we are offering a tasty Cannoli Making Class led by Italian chefs and supporting a new New York City startup company by offering their Custom Candle Making Class, along with a Floral Arrangement Course. Virtual Vibes is also proud to support Black History Month with a Coffee Break Speaker Series."
Interested in working for a company that values every employee and understands the importance of staying connected? Visit our careers page today!