It seems like just yesterday — and, because COVID-19, also a lifetime ago — that nearly 1,000 Intouchers gathered in Kansas City, MO, to celebrate 20 years of business success. We unveiled our new purpose statement — No Challenge Too Big to Cure — and the values that guide our work:
Live to Learn: Be curious, welcome change and invest in personal growth.
Be a Team Player: Embrace collaboration and have each other's backs.
Champion the Work: Fight for the innovative, the bold, the captivating.
Build Lasting Relationships: Foster genuine connections with clients, partners and each other.
Hold Ourselves Accountable: Say what we mean and do what we say.
We also laughed, cried, and gave back to our community through on-site philanthropic activities, including the assembly of more than 1,000 hygiene kits for two nonprofits, Ronald McDonald House and Heart to Heart International. When we assembled the kits, we did so believing that they'd go to families with hospitalized children, or to people in need during a disaster like a flood or a tornado. What we didn't know was that the disaster would appear in our own backyard.
This week, we learned that 60 of the 675 kits Intouchers made with the help of PowrServ for Heart to Heart International, an organization that exists to improve health access, provide humanitarian development and administer crisis relief worldwide, were being delivered to physicians at the University of Kansas Medical Center. These physicians — like so many others around the world — are working overtime and staying at work to help manage the COVID-19 pandemic in the Kansas City area.
Philanthropy is nothing new to Intouch, and we're always proud of how we help — whether it's raising funds for local animal shelters, shaving our heads for cancer research, or gathering in support of refugees. But this time around, we are extra proud to have — even unknowingly — contributed to the well-being of the people who care for others.
If you're interested in donating to Heart to Heart International, you can do so here.
If you'd like to work for a company that cares about its community members, check out our jobs page and see if there's something there that lights your fire.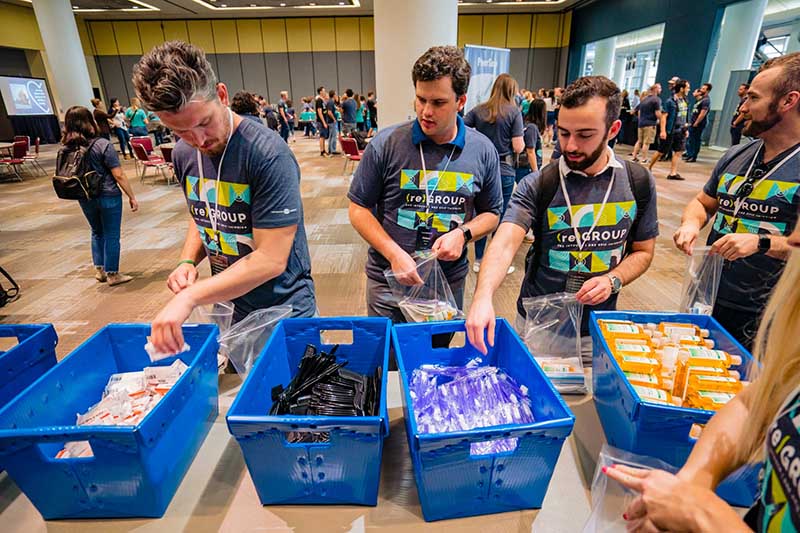 Intouch employees pack hygiene kits at last year's (re)GROUP celebration; kits being delivered to KU Medical Center.