Each year, we ask Intouch creatives to share their thoughts on the latest Super Bowl ads. This year, for Super Bowl LVI, we're back with more creatives and more reactions. But wait: When you get a bunch of creatives (and one creative strategic planner) "in a room together," can you get quick consensus? Turns out yes. Pretty much everyone agreed that the audience in mind was Gen X; that celebrities were more rampant than ever; and Eugene Levy driving fast with Fabio hair is AWESOME. What was the most disagreed-upon spot? Coinbase's bouncing QR code.
Did you notice any trends this year?
Kelly Cole, Creative Director: Coinbase with their QR Code-only ad. I thought it was a super interesting approach for the type of company they are. I think you can only do it once, and they did it. I think it played really well into their tech-savvy audience. Both I and my husband were like, "Let's scan it!" But we both are interested in crypto and when we saw it was Coinbase, it made SOOO much sense. It did NOT work on our parents, who were watching with us and couldn't' figure out what was going on.
Mike Gordon, VP, Group Creative Director: Lots of celebrities that tried to bolster the ad despite some of the lackluster creative. Some worked very well with the celebrity endorsement … Amazon Alexa's Mind Reader with Colin Jost and Scarlett Johansson. Larry David and his Curb Your Enthusiasm-like character. Nicholas Braun as a dopy cousin Greg from Succession and Jennifer Coolidge as the emotional wreck from The White Lotus for Uber eats. Selling green seemed to be a big theme this year, with car companies pushing electric. Salesforce did a really great ad with a green message that also took a swipe at Tesla, Facebook (or should I say Meta?), and Virgin Galactic with Matthew McConaughey speaking in his "I'm-in-awe-of-everything-while-pondering-the-meaning-of-life" tone for Salesforce. Great ad with a great message but seems a bit bizarre and out of place for a cloud computing company to be touting the virtues of living in the moment here on Earth while poking fun of "the cloud."
David Torres, VP, Creative: Looking to the past using history to tell stories of evolving technology and future advancements was one trend that stood out. Hyundai with Jason Bateman to sell all-electric cars and FTX using Larry David to promote crypto currency are two spots that were examples of this.
Annie Wong, Creative Director: Some of the commercials are very nostalgic and resonating to me. The storytelling awakens some lost memories (but not forgotten) of some of the greatest tv show/ movie references. Additionally, the use of certain celebrities are very deliberate and thoughtful for specific brands. (Dr. Evil and Scott, Jim Carrey as Cable Guy, Meadow and AJ, and more.) I was reminiscing about the 90s classics as well as the memories of the past that definitely put a smile to my face. Some of the commercials and the Super Bowl half-time were also in sync with one another in terms of the creative thematic approach. There are commercials that used a ton of CGI and technology, but I have to say, it wasn't as memorable for me.
What did you feel was the freshest, most original approach?
Nicholas Capanear SVP, Excutive Director of Craft: The Pringles spot was great … it took a potentially uninteresting fact that the brand has always heard over the years about its packing (the tub being too deep at the end and people getting their hands stuck in) and made it fun and memorable. I love that the brand itself doesn't feel the need to freak out when they hear this feedback from customers and think "OmG, we gOttA cHAnGe the pAckaGing, people are getting their hands stuck!!" but rather they own it and even celebrate it.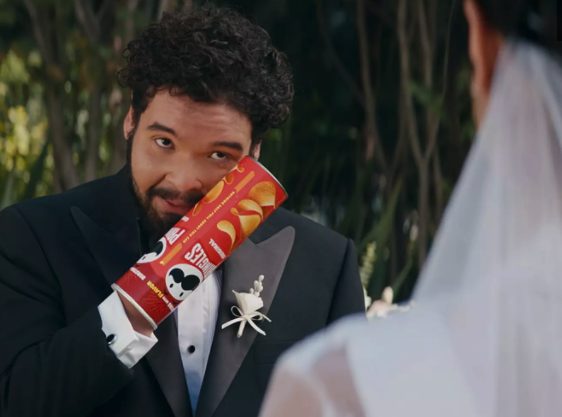 Doug Gipson, Group Creative Director: Anything or everything with Peyton Manning in it … if only he were in a few more … no. Maybe Liquid Death Water … not really an original approach other than the shock value of kids apparently chugging hard alcohol.
Susan Perlbachs, Chief Creative Officer: Loved the Pringles spot, and Lionel Ritchie was a great musical touch. That said, I also loved Jennifer Coolidge chowing down on lipstick in "Uber Don't Eats."
David Torres: Rocket Homes & Mortgage using Barbie's Dream House, He-Man, Skeletor, and Castle Grayskull toys was an unexpected approach to teach about buying a home with confidence.
Which spot set off your "wish I'd done that" jealousy meter?
Charley Aldridge, VP, Group Creative Director: Google Pixel 6 with Real Tone featuring Lizzo. This spot was beautiful, relevant, and used use an unreleased song, which I thought was just double awesome.
Marty Canniff, SVP, Executive Creative Director: Alexa "Mind Reader" — making creepy eavesdropping funny. "Lizzo in Real Tone" gave me goose bumps. I liked the way Salesforce's "The New Frontier" stuck it to Musk, Bezos, and Zuckerberg.
Nicholas Capanear: I surprisingly really liked the META spot … they've got such a bad stink on them right now, but the spot was fun and surprisingly emotional in a good way. Worked for me. I still don't like Facebook.
Mike Gordon: One of my favorites was the NFL commercial. Two kids playing Madden Football only to have the characters come out of the TV and trash the house. Brings back some nostalgia of playing video games with friends after school and indoor touchdown passes with dives on the couch, only to have your parents yelling at you for the mess you made of the living room. Great ad that taps into insights from all ages with action and humor.
Don Matera, SVP, Group Creative Director: The Toyota "Brothers" spot. A moving story. Stunning cinematography. And an inspiring message that anything is possible. This is the type of human story every storyteller wants to tell at some point in their career. When my 9-year-old daughter was teary-eyed at the end of the spot, I knew the story was something any generation could feel.
Susan Perlbachs: "The Joneses." Mostly because I had celeb envy. Who wouldn't want to be on a shoot with Rashida, Lesley, and Tommy Lee? Then Nick Jonas is keeping up with the Joneses? I look forward to all the famous Joneses to follow! Nora Jones? Catherine Zeta? January?
Brent Scholz, SVP, Executive Creative Director: I'm always a sucker for when concept meets casting meets production value. Rocket Mortgage did that exceptionally well. Everyone will recognize the use of Anna Kendrick and the throwback motif of Barbie. The unsung hero, IMO, is the editing – it's so well done and helps drive the spot perfectly.
David Torres: Rocket Homes & Mortgage using Barbie's Dream House, He-Man, Skeletor, and Castle Grayskull toys was an unexpected approach to teach about buying a home with confidence.
Did any of the spots inspire you as a creative, and if so, how?
Doug Gipson: Not original or creative, but what a Super Bowl ad should be … bitchin' flying car with a hip celebrity that's not trying to be … and a kool retro-futurist car with a manual gearbox … Eugene Levy with Fabio hair driving the new Nissan Z.
Kevin Nalty, VP, Strategic Planning: I liked Pringles turning a packaging problem (the container makes removing chips more difficult than bags) into a parody – featuring a person living his entire life with his hand stuck in a Pringles container. A playful, self-deprecating spot was refreshingly non-promotional but surely helped with branding.
Did your impression of any brand change (for better or worse) after seeing their commercial?
Lauren Brooks, Creative Director: Polestar 2 stood out with its sleek understatement and cheeky supers; also the Kia EV spot was high-tech yet heartwarming.
Marty Canniff: Salesforce improved my impression of the brand. " … Time to engage … plant more trees …build more trust … make more space for all of us … The new frontier ain't rocket science. It's right here."
Erin Lewis, Group Creative Director: The commercial I keep thinking about is the Lay's "Golden Memories," with the dead bride. I intensely disliked it. I thought that they were going to show the character of Ben finally get married to Katherine Heigl's character from Knocked Up – which would have been FANTASTIC. It set me off thinking about the idea of commercials bringing to life happy endings or continuations of movies that end, even if just for 30 seconds – getting to see/peek into the lives of characters we love. But instead, he just married a dead girl, so now I am mad at Lay's for blowing the opportunity. Also, I thought the way they photoshopped the bag of Lay's made it seem really fake and made me think the chips would taste like fake bag, too. However, this is the only commercial that has caused me to type a whole paragraph so ….. General Motors tried to do this too with Dr Evil, but it didn't evolve the story at all, it just repeated the existing one. What's the point of getting all the actors back into character if you don't get to see them live out the fantasies of the fan base?
Who used celebrities/cultural cues well?
Susan Perlbachs: Cultural cue. Chevy Silverado and the Sopranos intro remake. Wow. That might have been my favorite. The idea, "A whole new truck, for a whole new generation" was great.
David Torres: Two brands that used celebrities well were Toyota Tundra's "The Joneses" commercial with how they cast a Jones/Jonas for everyone to relate to, demonstrating that a diverse group of people can still all agree on the same thing, and the way Lays' "Golden Memories" commercial cast Paul Rudd and Seth Rogan to create a fun story demonstrating how people bond over unique experiences and food.
Michelle Ziekert, SVP, Executive Creative Director: Planters "Feed the Debate" hit home for me. The banter, debate, the contagion of said debate … This not only played out on our TV, but in our living room.
Which spot was the biggest face-palm or waste of money?
Charley Aldridge, VP, Group Creative Director: T-Mobile "Let's do it for the phones" (featuring Miley Cyrus) — a disgraceful misuse of living legend, Dolly Parton.
Bill Dutton, Creative Director: Coinbase. Did I pull out my phone to scan the QR code while I was watching Coinbase's, "QR Code"? Yes (and may have been a part of surge that crashed the server due to the response), after which I immediately placed my phone back in pocket as it compelled me to do nothing.
Doug Gipson: The Meta ad with the Toy Story theme that seemed both depressing … and even more depressing … and not just because it's Facebook 2.0, but because the apparent conclusion was after two years of Covid, everyone should become even more isolated and live in Zuckerburg's virtual world, where even more of your activity can be tracked.
Ron Larson, VP, Creative Director: Overall I gave the whole thing a C-, which makes me sad because, pre-covid, they were starting to get back to making funnier, more memorable spots.
Kevin Nalty: I found two spots a bid odd because they made me think of flaws more than benefits. Amazon, facing criticism for privacy invasions, decided on a "mind reading" campaign. It was well executed and spoke to the proactive nature of a voice assistant – but I wonder if others thought about privacy as Alexa revealed the inner voice of customers. Secondly, I was also surprised to see KIA's robot dog running out of batteries while crashing to what appeared to be its demise. For me, it just made me think of the battery charging hassles of electric cars.
Michelle Zeikert: Turkish airlines. Morgan Freeman? That script? No. Second palm? Jim Carrey "Cable Guy" for Verizon. Didn't these two once both play God in the same movie?