Kansas City Corporate Challenge (KCCC) is celebrating its 40th anniversary this year, and once again, competitive Intouchers — nearly 200 — signed up to get in the game(s). KCCC is an opportunity for people from across the Kansas City business community to get together for three months of friendly rivalry.
When it started in 1980, KCCC saw 18 area companies participate — in 2019, that number jumped to more than 240! In addition to the chance it provides to interact with people from a wide range of local businesses, the annual event takes a portion of each company's registration and donates it to charity. This year's selected charity is the Kansas City Metro Special Olympics.
So far, Intouch athletes have participated in volleyball, dodgeball, darts, golf, softball, walking, biking and running events, including the half-marathon — which featured a torrential downpour that art director Kayla Kroenlein called "really refreshing" — and more.
To date, Intouchers have earned medals in three events: dodgeball (bronze), women's volleyball (silver) and pool (bronze). On the dodgeball team: Kelsey Beaudry, Connor Bjornnes, Meg Bradley, Mark Johnson, Patrick McQuaid, Austin Smith and Nathan Wood. Members of the volleyball team included Sandy Aschenbrenner, Jheri Bermudez, Lauren Ginther, Emily Jackson, Kelly Minihan, Jordyn Nolan, and Carolyn Putman. Scott Roberts was the winning pool shark.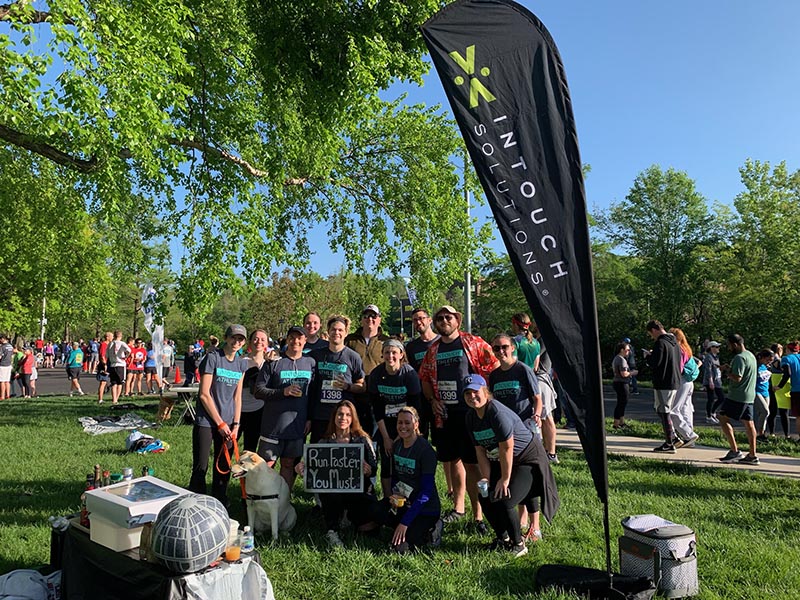 This week was "track week," and there are two more weeks of events to go. Once again, the KCCC finale will be a tug of war, which is always a blast. In honor of Intouch's own special anniversary — we're celebrating 20 years! — we hope CEO Faruk Capan once again leads the rope line. To everyone representing Intouch this year — thank you, and keep on kicking ass!
Interested in working for a company that plays hard together? Check out our jobs page. We currently have dozens of openings in Kansas City, Chicago, Boston and New York!