We know that to successfully hack healthcare for the people, we can't do it on our own. We need to talk with the people who need solutions most. In our ongoing effort to learn more about the conditions we work on and better understand and empathize with the people living with those conditions, Intouch is hosting a series of in-house events featuring speakers who have firsthand, day-to-day experience as patients and caregivers. Our first guest speaker was Julie Serati, whose son Joseph was diagnosed with acute lymphoblastic leukemia (ALL) when he was 8 years old.
ALL develops in immature white blood cells (lymphocytes) found in bone marrow and can progress rapidly if not treated. Fortunately for Joseph and his family — and the many other families affected by this type of leukemia — the five-year survival rate for children with ALL is now more than 85% overall.
Who Thinks 'Cancer'?
Getting Joseph's diagnosis was surreal. The only symptom he had at the time was a high, multi-day fever he couldn't kick. He'd complained about leg pain, and there was some bruising. But Joseph was an active kid who played football, so Julie didn't immediately make the connection. "I mean, who thinks 'cancer'?" she said.
In the hematology oncology unit, "there were these little bald heads everywhere," Julie said. The family had been brought to the unit so Joseph could begin treatment as soon as possible. She thought there'd been a mistake. Only when a social worker came to speak with Julie and her husband did reality begin to sink in.
Treatment lasted for more than three years, and the family's lives were upended. Julie became Joseph's primary caregiver — administering daily oral medicines and occasional injections; staying up late when he couldn't sleep; explaining why he had to wear a mask in public for his own protection, even though he hated being noticed because of it.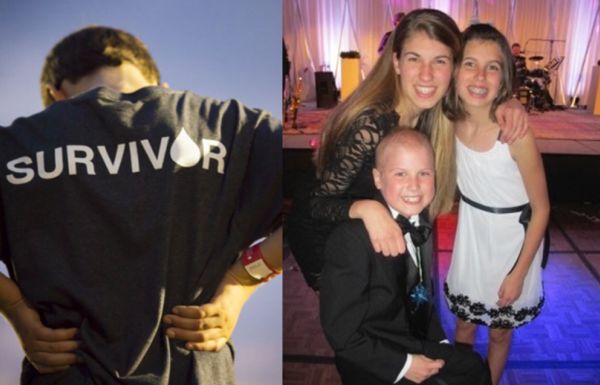 A Blessing in Disguise
Some families might have been torn apart by such a diagnosis, but Julie said her family got stronger and more close-knit. Her daughters — both older than Joseph — took it upon themselves to raise money for research by making hair bows they called "Bows for Joe." The siblings also became closer than they'd ever been before. The family gained a large support network in others facing similar diagnoses, and in the Leukemia & Lymphoma Society, which raises money to fund research and provide financial assistance for people battling cancer. And Joseph discovered how much his classmates cared about him when 20 boys participated in a head-shaving party as a show of support. They soldiered on together.
Celebrating "Back to Normal"
Joseph's chemotherapy ended in February 2016. The family hosted a big party to celebrate and invited other kids whose treatment was also ending. For Julie and her husband, "back to normal" came when Joseph, who'd always loved the family's lake outings, was finally able to jump into the water this past summer without worrying about the possibility of infection.
Another way the family celebrates Joseph's life is by participating in the Leukemia & Lymphoma Society's annual Light the Night Walk, which happens in more than 100 U.S. locations every Fall. Light the Night is more than a fundraising event. It brings together survivors and supporters in a family-friendly, carnival-like atmosphere that's about celebration, commemoration and recognition of how far we've come in the fight against blood cancers.
"Light the Night will blow your mind," Julie said. "It's a spiritual experience."
Julie and her family will be at Light the Night's Kansas City walk this Friday, September 30 at 6 PM, along with thousands of others who've fought or are fighting a form of blood cancer.
Intouch will be there, too. If you attend, we'd love to see you at our #ALLin Airstream. Come say hello, share your story if you'd like, and take a selfie at our selfie station.