If you've ever read anything about boosting morale at work, you've probably come across the recommendation to "take time to celebrate, even the small successes." At Intouch, we recently had cause to celebrate, but the success wasn't a small one – on the contrary, it was 20 years big. Twenty years – that's how long we've been around! Oh, and we've been independent the whole time.
When CEO and founder Faruk Capan started Intouch, he had two employees and a home office. Today, more than 850 people support our six affiliates in offices across the United States, as well as in Europe and India (and we're still growing). So, in honor of this platinum anniversary and the achievements it represents — and because we flat-out love celebrations — we brought out the cake and champagne and gathered (virtually and IRL) for a toast.
Check out a few photos of the event, and stay tuned for posts featuring Intouchers who've helped the company grow over the years.
Intouch founder and CEO Faruk Capan gets ready to blow out the candles.
We like cake, but we also like a good balloon arch.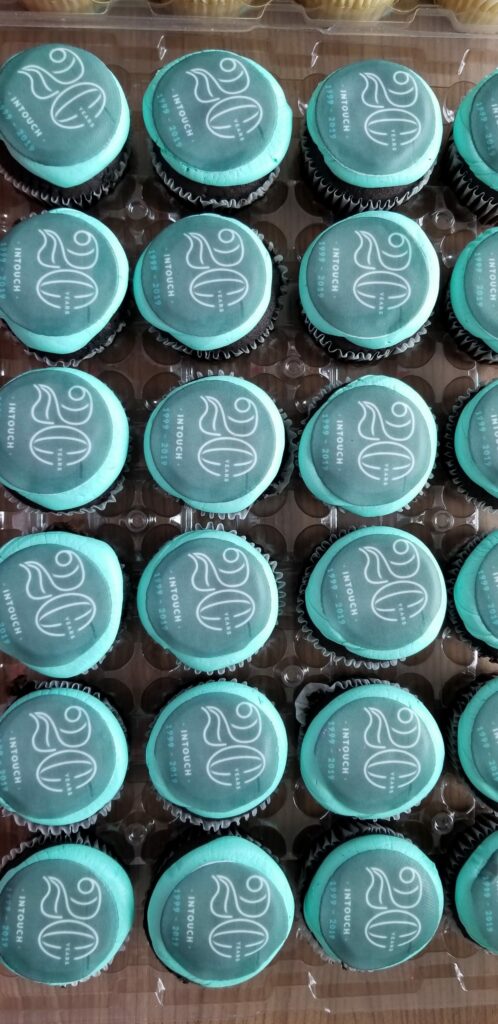 Anniversary cupcakes, because cake by itself is not enough.
Some of the folks in the Boston office tuned in via video conference to watch the KC festivities.
Chicago Intouchers listening to Faruk give the toast.
Folks in the New York office joined the celebration via video conference – notice someone is also working, because agency life.