As cases of measles continue to be reported around the United States, our own industry was recently inspired to launch a challenge: Medical Marketing & Media (MM&M) asked readers to "use their considerable brain power to design marketing collateral to convince people to get their vaccinations."
Nearly 100 submissions were judged through a popular vote, and two of Intouch's were selected as MM&M's Staff Picks.
The Vaccinators
The first, a transit poster/billsticker titled "The Vaccinators," was submitted by associate creative director Brooke Claussen and contract senior art director Ron Kohudic and featured dramatic art and a stylized font reminiscent of that used for the FX Network's period spy drama, The Americans.
"In the movies, when an epidemic or apocalypse is imminent, a group of heroes must overcome immeasurable obstacles," said Brooke. "We want vaccine-hesitant parents to become this heroic group. We portray vaccinators as fighters, leading a battle against viral mercenaries. Our inspiration was sourced from Valkyrie mythology, Hunger-Games heroines, and vintage posters. We want parents to arm their children with the tools they need to conquer preventable diseases once and for all."
Measles Monitor
The second submission, a "Measles Monitor" app, shows a world map with real-time tracking of active measles cases geographically.
"This assignment was a quite a challenge because antivaxxers — and the antivaxxer movement they align with — follow a set of beliefs that are quite different from the healthcare/scientific community," said associate creative director Bill Dutton.
"Attempts to persuade them are typically met with strong resistance … Essentially, it becomes a confrontation, or 'a he said, she said' situation. We thought that the Measles Map was a truthful, non-biased and very persuasive way to validate that the spread of viruses is real, and spreading to a community near you."
Creative director Abby Mansfield, who worked with Bill on the "Measles Monitor" app, added, "Delivering local, highly visible information in real time could help combat the 'measles isn't a real threat anymore' perception. We can help people understand that the real risk is disease outbreak, not vaccines. And since people don't rely on their 10:00 news anymore, the idea is to bring these important updates right to them [during their commute]."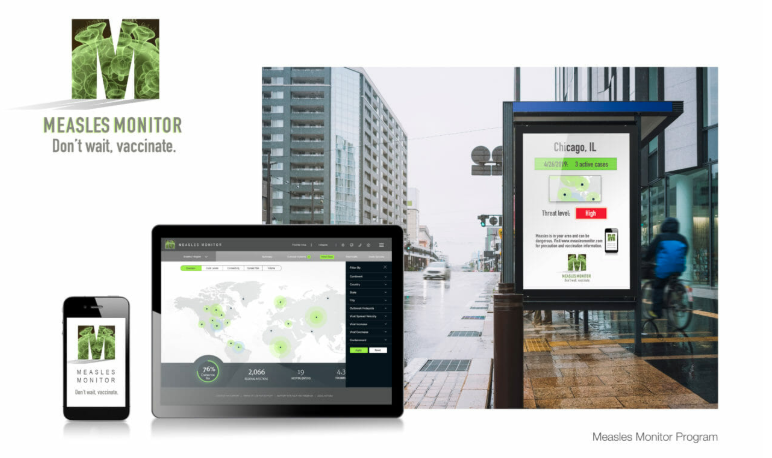 Congrats to Brooke, Ron, Abby and Bill, and everyone else recognized by MM&M! Check out all the winners here.
Header image credit: MM&M