Intouch's Inclusion & Diversity Alliance (IDA) hosted a panel on June 27 in the Chicago office featuring a handful of lesbian, gay, bisexual, transgender, queer or questioning, intersex, and asexual or allied (LGBTQIA) employees who generously agreed to share their personal stories and talk about what pride means to them. They also took follow-up questions from the audience of about 100 Intouchers; dozens more attended virtually.
The event, aptly called Moments of Pride Open Mic, was spearheaded by Antonio Rivera, Intouch's associate director of inclusion and diversity, and moderated by Greg Storms, director of youth services at Center on Halsted, an organization "dedicated to advancing community and securing the health and well-being of the Lesbian, Gay, Bisexual, Transgender and Queer (LGBTQ) people of Chicagoland."
"Even I can get worn out with all the pride," offered Storms as they began the discussion. But – despite significant legal and social gains for the LGBTQIA community over the past 50 years — the work of educating is never done.
The six panelists were nervous and excited, but they were also candid … sharing coming out stories, feelings of outsiderness, experiences of discrimination or rejection, and – thankfully — also stories of acceptance and love. They talked about what strengthens them – their partners, their families, the families they've created for themselves when their biological families just aren't quite there yet.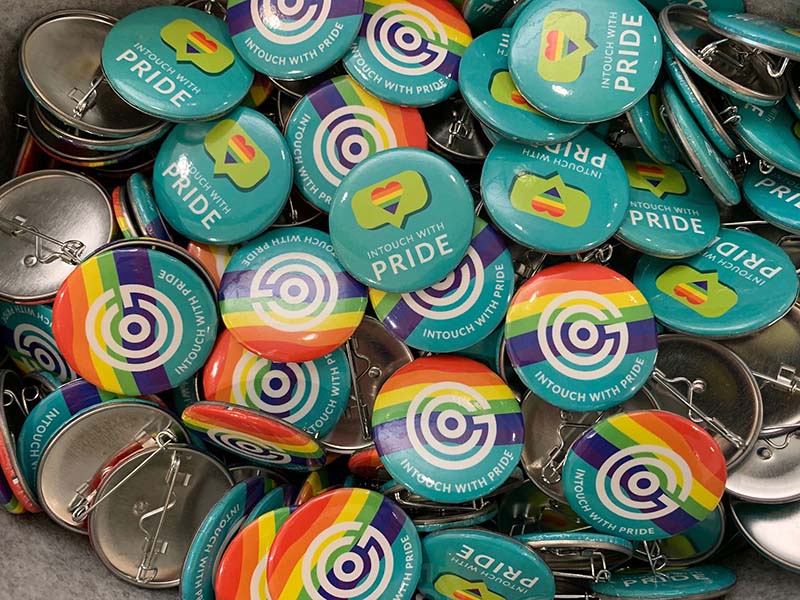 Over the course of the hour-and-a-half long discussion, panelists also talked about how they define pride – "Being authentic," said editorial VP Jaii Phillips Beckley — and offered suggestions for how to be an ally to an LGBTQIA colleague, friend or family member:
If you witness discrimination or harassment, say something.
See each individual for who they are and accept them – enable them to be their real selves.
Relate to them on a human level – if they have kids, ask about them; if they're dating, ask how the date went; if they're married or in a committed relationship, ask about their partner.
Be empathetic; like everyone you meet, each person has a back story and maybe some struggles you can't even fathom.
Vote for candidates who support and advocate for the LGBTQIA community.
A Workplace Where All Are Welcome
One of the goals of the open mic was to identify areas where Intouch, as a company, might make improvements in its culture so that LGBTQIA employees feel included and respected, but moderator Storms noted we're already a pretty special place.
Group creative director Charley Aldridge offered, "I don't feel different at Intouch," but creative director Allie Golden may have made the most striking statement about where Intouch stands as a company and a culture when she noted, "People at Intouch have come out because they see how comfortable it is here."
"I'm so excited to have participated in this event!" said account director Jessica Harding. "I was extremely nervous about being so vulnerable in front of so many people, but once the conversations started, I quickly found comfort in those surrounding us, and was excited to share my viewpoints and stories. I am overwhelmed with the kindness, appreciation and respect that was shown during and after the discussion. I look forward to attending and participating in future events."
Interested in working for a diverse and inclusive company that values the unique individual you are? Check out our jobs page!
If you'd like to learn more about the history of the pride movement and see how it's unfolded over the past 50 years, check out NYC Pride.