Last week, Frontiers Health, the premier global digital health innovation event, was held in Rome, Italy. The annual event assembled nearly 1,000 attendees from over 40+ countries across the healthcare ecosystem to learn, network and explore industry challenges, strategic trends and solutions in life sciences and healthcare.
While Frontiers Health has always been a flagship event for EVERSANA INTOUCH and our clients to attend each year, this year's event was significant as we were proud to co-host the conference as part of EVERSANA with our colleagues from Healthware Group. Given the recent acquisition by EVERSANA, our joint welcome to the event attendees was a natural step in showing our united commitment to provide clients with unmatched support for brands worldwide. 
With sessions focused on the themes of digital health, therapeutics, and innovation, EVERSANA subject matter experts were featured speakers alongside our new Healthware colleagues across eight sessions.
Marty Culjat, SVP, Global Head of Digital Medicine & Regulatory Innovation
Digital Health & Digital Medicines Go-To-Market Strategies
Perspectives from the US on Evolving Regulatory and Reimbursement Policies
Over the Counter: A New Framework for the Digital Medical Devices in the US
John Kutz, Managing Partner
Becoming a Digital First Bio-Pharma Company
Digital Health & Digital Medicines Go-To-Market Strategies
Abid Rahman, VP, Innovation
Generative AI in Pharma
AI Impact on Healthcare: Large Language Models and Beyond
Dr. Pierantonio Russo, Chief Medical Officer
AI Enhanced Care Pathways
The Hospital of the Future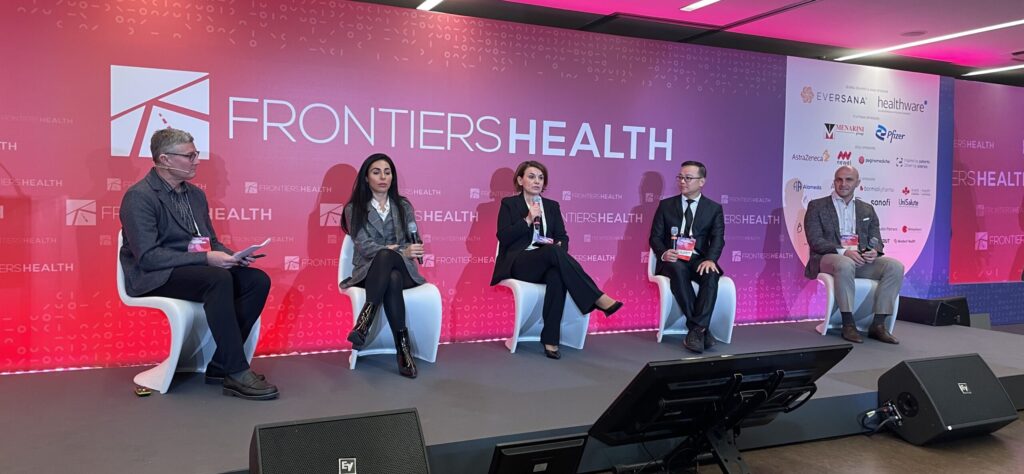 As an epicenter of healthcare innovation, Frontiers Health continues to demonstrate the industry's desire to revolutionize care together.
"In closing Frontiers Health 2023, I'd like to celebrate the exciting journey we've experienced together. It has been a privilege to witness from the inside the meeting of minds, hearts, and souls that are shaping the future of healthcare," said Roberto Ascione, CEO at Healthware Group.
We look forward to continuing the momentum from the event together in pursuit of creating a healthier world for all.