The One Show is among the oldest, most respected advertising award competitions in the world, and for more than 40 years, its Gold Pencil award has been considered one of the top prizes in the creative industry. The competition — sponsored by The One Club for Creativity, a nonprofit organization that supports and celebrates the global advertising and design industries — honors some of the most original ideas in creative advertising. Great news for Intouch: The One Show just published their 2022 shortlist of finalists, and we're well represented with 14 nominations. Even more good news: Intouch work has also made the shortlist with three more nominations for The One Club's ADC Awards. At more than 100 years old, ADC (Art Directors Club) was the first global organization to celebrate and award leaders in creative communications.
One Show winners will be announced during Creative Week, May 16-20, 2022. More than 4,300 entries from 52 different countries and regions will be considered! ADC Award winners will be announced May 18, 2022.
The Nominations
The Last Plaque, a short, animated film that imagines a day when plaque psoriasis is eliminated, freeing sufferers to get back to the lives they've been missing. Accompanied by soothing music, several vignettes show psoriasis sufferers uncomfortably moving through everyday situations many of us take for granted — shopping for a bathing suit, hanging out by the pool, taking a yoga class, until the last plaque leaves. You can learn more about plaque psoriasis and check out the film here.
Erase the Line, a campaign for The Chrysalis Initiative that "provides Black women (and other disparate groups) with the tools to recognize and address racism in their cancer care, including 1:1 coaching, accessing resources and a patient community, and viewing a patient-curated provider directory — all with the purpose of erasing the line of inequality in breast cancer care."
Ticking Lyme Bomb, a gritty, cringe-inducing campaign for the Global Lyme Alliance featuring a Mothra-sized tick covering a large swath of New York's Central Park. The message? Lyme disease, which can be contracted from the bite of a deer tick, isn't just a rural or suburban problem anymore.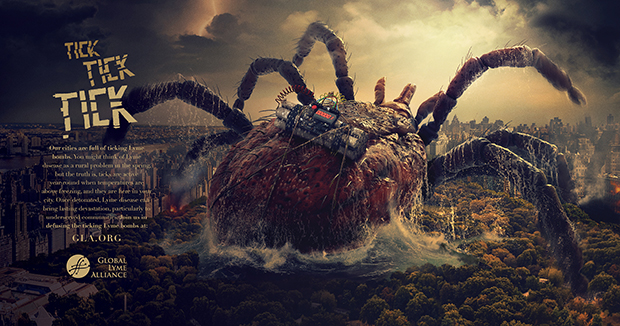 Duchenne Muscular Dystrophy (DMD) is a rare genetic disease that robs children of the ability to walk, breath and even smile. Fierce Against MD's campaign message is "Muscular Dystrophy can take away the ability to smile, but it can never take inner strength to fight it." We linked it to custom, in-house-developed Instagram/Facebook augmented-reality filters shareable socially via mobile devices. The filters encouraged supporters to choose their favorite fierce animal, and through the filter, "become" the animal. When they move their heads, the animal moves theirs. When they snarl, the animal snarls.
"I'm so proud of our creative team! Regardless of the outcome, being nominated is an enormous honor," says Intouch's chief creative officer Susan Perlbachs. Stay tuned for more on the winners next month!